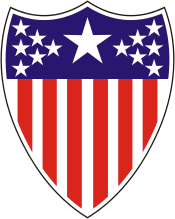 U.S. Army Adjutant General Corps, branch insignia
A silver metal and enamel shield 1 inch in height on which are thirteen vertical stripes, 7 silver and 6 red; on a blue chief 1 large and 12 small silver stars.
The basic design (the shield from the Coat of Arms of the United States) was adopted in 1872 as a solid shield of silver, bearing thirteen stars. In 1924, this design was authorized to be made in gold metal with the colors red, white, and blue in enamel. In December 1964, the insignia was changed to silver base metal with silver stars and silver and red enamel stripes.
/ TIOH