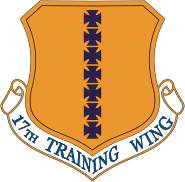 U.S. Air Force 17th Training Wing (17th TW), emblem
The emblem was originally approved for the 17th Pursuit Group on Jan. 19, 1934. In 1993, the Goodfellow Technical Training Wing at San Angelo, Texas, was replaced with the 17th Training Wing to carry the lineage. The historical emblem was then approved for the wing on Sept. 18, 1995.
The emblem features seven crosses pattee in pale sable, all within a diminished border of the first. The colors of ultramarine blue and yellow represent United States Air Force colors with the blue alluding to the sky, which is the primary theater of Air Force operations. The yellow refers to the sun and the excellence required of Air Force people. The seven crosses represent the seven battle honors of the group during World War I. The seven World War I battles were the Aisne-Marne, Campagne-Marne, Oise-Aisne, Ile de France, St. Mihiel, Meuse-Argonne, and Lorraine campaigns.
The original emblem had a crest on the top with a griffin that was beaked, fore-legged, and winged. A mythological animal having the body and legs of a lion and the head and wings of an eagle, the griffin symbolized the union of strength and agility and seemed to represent perfectly the 17th Bombardment Wing (Light) interdiction mission in Korea.
The 17th Wing kept the distinctive emblem with the crosses, but discarded the griffin and the motto. According to wing historian John Garrett, the motto "Toujours au Danger" (ever into danger) was discarded since the tradition of expressing unit mottoes in French lost some of the luster it commanded when memories of World War I still were fresh.
The words in the scroll changed to the unit designation according to guidance from Air Education and Training Command.
/ USAF