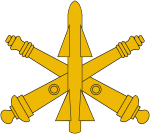 U.S. Army Air Defense Artillery, branch insignia
A missile surmounting two crossed field guns, all of gold colored metal, 1 1/8 inches in height.
Crossed cannons (field guns) for Artillery has been in continuous use since 1834, when they were played on regimental colors, knapsacks, and as part of the cap insignia for Artillery officers.
An Act of Congress, 2 February 1901, divided the Artillery arm into Coast and Field Artillery and the insignia was modified by the addition of a plain scarlet oval at the intersection of the crossed cannons. On 17 July 1902, the Coast Artillery insignia was created by the addition of a gold projectile on the red oval. Concurrently, the Field Artillery insignia was created by the addition of a gold wheel on the red oval; this insignia was replaced by two crossed field guns (a lighter form of cannon), the design of which was approved on 4 April 1907.
The Army Organization Act of 1950 consolidated Coast and Field Artillery to form the Artillery Arm, and the crossed field guns was redesignated as the Artillery branch insignia on 19 December 1950. This insignia was superseded on 2 January 1957 by a new insignia consisting of crossed field guns surmounted by a missile, all gold.
On 20 June 1968, Air Defense Artillery was established as a basic branch of the Army and on 1 December 1968, the ADA branch was authorized to retain the former Artillery insignia, crossed field guns with missile.
/ TIOH