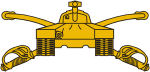 U.S. Army Armor, branch insignia
The front view of an M-26 tank, gun slightly raised, superimposed on two crossed cavalry sabers in scabbards, cutting edge up, 13/16 inch in height overall, of gold color metal.
The Armor insignia, approved in 1950, consists of the traditional crossed sabers (originally adopted for the cavalry in 1851) on which the M-26 tank is superimposed. The design symbolizes the traditional and current roles of armor.
/ TIOH