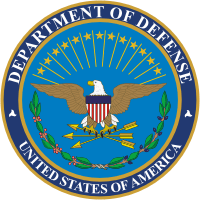 U.S. Department of Defense (DOD), seal
Description: An American bald eagle with wings displayed horizontally grasping three crossed arrows and bearing on its breast a shield of thirteen pieces Argent and Gules, a chief Azure. Above the eagle an arc of thirteen stars with alternating rays. Below the eagle a wreath of laurel to dexter and olive to sinister. On an encircling band the inscription "DEPARTMENT OF DEFENSE" at the top and "UNITED STATES OF AMERICA" at the bottom. When illustrating the seal in color, the background will be medium blue; the eagle and wreath proper; the arrows, stars and rays yellow/gold. The encircling band will be dark blue with yellow/gold edges and letters in white.
Symbolism: The American bald eagle, long associated with symbolism representing the United States of American and its military establishment, has been selected as an emblem of strength. The eagle is defending the United States, represented by the shield of thirteen pieces. The thirteen pieces are joined together by the blue chief, representing the Congress. The rays and stars above the eagle signify glory, while the three arrows are collectively symbolic of the three component parts of the Department of Defense. The laurel stands for honors received in combat defending the peace represented by the olive branch.
Background: The seal was originally approved on 8 October 1947 by the President for the National Military Establishment. The designation was changed to Department of Defense on 15 August 1949.
/ TIOH