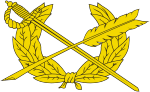 U.S. Army Judge Advocate General (JAG), branch insignia
A gold color sword and pen crossed and superimposed on a laurel wreath, 11/16 inches in height.
In May 1890, "a sword and pen crossed and wreathed, embroidered in silver" was originally adopted for wear by officers of the Judge Advocate General's Department. In 1899, the color was changed to gold. The pen represents the recording of testimony and the sword symbolizes the military character of the Corps. The wreath is symbolic of honor. The enlisted branch of service insignia was authorized on 4 August 1967.
/ TIOH