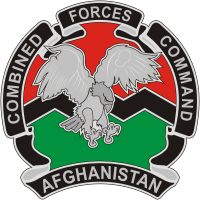 U.S. Combined Forces Command-Afghanistan, distinctive unit insignia
On a silver metal and enamel device 1 1/4 inches (3.18 cm) in height overall, consisting of an oval shaped device arched at the base divided horizontally red over green by a jagged horizontal black line, superimposed with an eagle stooping, all enclosed by a black scroll arched at the top and inscribed "COMBINED FORCES COMMAND" and at the bottom "AFGHANISTAN" in silver metal letters.
Symbolism: The dancette is used here as a heraldic representation of the rugged mountain terrain of Afghanistan. The eagle is a traditional national emblem and also an ancient symbol of power and victory. The red, green and black echo the colors on the national flag of Afghanistan.
The distinctive unit insignia was approved on 25 August 2005.
/ TIOH