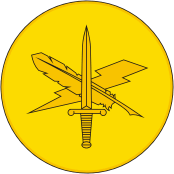 U.S. Army Public Affairs, branch insignia
A vertical broadsword set against a cross quill with pen and a lightning bolt.
Authorized on 26 October 1989 for wear by enlisted personnel assigned to the Public Affairs career management field (CMF 46). The quill identifies the functional area of public affairs and journalism. It crosses a lightning flash symbolizing speed and the transmittal or broadcasting of information. The are combined with a broadsword, underscoring the tactical value and impact that dissemination of information has in total military preparedness and in combat readiness. Officers assigned to public affairs continue to wear their basic branch insignia.
/ TIOH