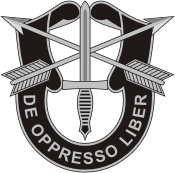 U.S. Army 1st Special Forces, regimental insignia
Personnel assigned to the Special Forces Branch are all affiliated to the 1st Special Forces since there is only one Special Forces regiment. The insignia is a silver color metal and enamel device consisting of a pair of silver arrows in saltire, points up and surmounted at their junction by a silver dagger with black handle point up; all over and between a black motto scroll arcing to base and inscribed "DE OPPRESSO LIBER" (Liberate From Oppression) in silver letters.
The shield of the Coat of Arms was approved for the First Special Service Force of World War II on 26 February 1943. The knife is of a distinctive shape and pattern and was issued only to the First Special Service Force. The crest is the crossed arrows from the collar insignia worn by the First Special Service Force in World War II but changed from gold to silver for harmony with the shield and to make a difference from the collar insignia. The coat of arms and distinctive unit insignia was approved on 8 July 1960.
/ TIOH